The Guardian Statue

each statue is 9" x 10" x 11" and
weighs approx 7 pounds with a solid wood base
by Artist
Steve Carter
This amazing statue is of a humbled, praying cowboy who is guarded and encouraged by a powerful angel. The angel is surveying the hidden realm for threats to this child of God.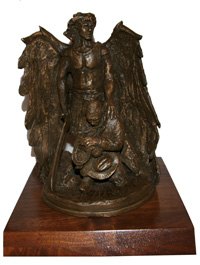 Made of a special resin material that is strong and also light-weight, each statue is hand poured, colored, patina'd, polished, and mounted with the utmost care.

This makes a wonderful addition to your office, mantel, or a great gift for that someone special in your life that knows the Joy in Christ of being a Cowboy or Cowgirl. Click on the pictures for larger images.
Price: $150.00
(call for shipping information)

"Blessed is the man who perseveres under trial, because when he has stood the test, he will receive the crown of life that God has promised to those who love him."
James 1:11-13



Saddle-Up For Jesus, LLC
Colorado Springs, CO
800-875-8795
hrcarter@saddleupforjesus.com
Copyright © 2012 Saddle-Up For Jesus, LLC